Who makes best home popcorn machines
Review and compare the top home popcorn machines, just like the movie theaters, so you get the right one.
We've also listed what you can expect to pay for these awesome popcorn machines.
However we found a company that has best pricing anywhere.
So we placed a popcorn machine price request form below where you'll get better than the list prices from Snappy the largest distributor of home popcorn machines.
Popcorn machines are very affordable, and look great anywhere in your home.
Want to add flavor to your home theater or gameroom. Home theater popcorn machines give it the finishing touch.
Popcorn machines have been around for a long, long time.
There are very many variations out there on the market.
The latest styles implemented the unique feature the Movie Theaters use, as in built in warmers.
I can hear you now saying "I don't want to clean that thing. It will take forever".
Actually it only takes about 2 minutes to clean after each use.
So, below we've listed the top home popcorn machines the average home owner tends to buy.
If you need help on deciding what style, size, or if you need a popcorn cart to hold the popcorn machine popper fill out the form below,or,

Click here for help on selecting the right popcorn machines,
or
Click here to get the Nutritional facts on Popcorn.


So - BROWSE down the page and see which popcorn machine fits your style - or should we say Taste.
Warning - - The following popcorn machines - if you choose to get one - will dramatically change the way you watch movies at home!
1911 4 oz.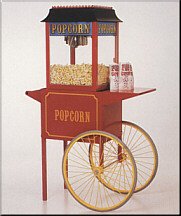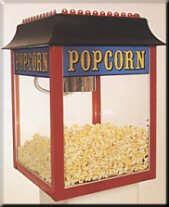 Remember this  popcorn  machine at the amusement  parks when  you were younger? These are the legendary 1911 4 oz. awesome  home popcorn mahcines even for small businesses.
This little popper (made by Paragon / GMI )will make you a fresh tasty batch every 3 minutes, which means you won't have to pause that movie too long.
Here are the dimensions and weight for those who want more detail. Dimensions - 18" Wide x 18" Deep x 24" Tall Weight - 54 lbs.
1911  4 oz. -  $380.00  plus shipping
Small Cart - $320.00 plus shipping


---
Warm, Warm, Warm. These 6 ounce Thrifty 6 home popcorn machines will keep your tasty popcorn warm for hours - because it has - you guessed it - a built in warmer.
Thrifty 6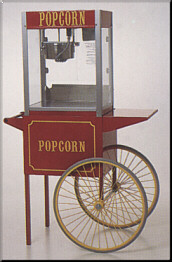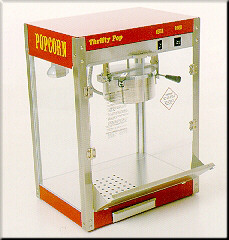 These Thrifty Pop 6 oz.home popcorn machines are simple and easy to use. It has a "Hard  Anodized"  kettle - similar to a non-stick frying pan, which to you means very  easy  cleaning.
For you carmel  corn  crazies  out  there! You can pop buckets of carmel corn - better  than the amusement park.
A perfect size for any room:
Dimensions - 20" Wide x 14" Deep x 26" Tall
Weight - 64 lbs.
Thrifty Pop 6 oz.  -  $452.00 plus shipping
Small Cart - $320.00 plus shipping
---
These home popcorn machines are a favorite of bowling alleys, arcades and bars. Now it comes in a 6 oz. perfect for the home or small business.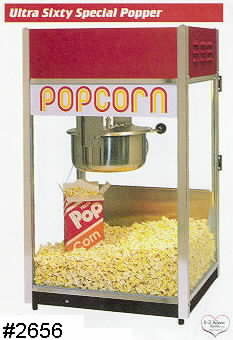 The lowest priced 6 oz. Gold Medal Popper with an
"E-Z Kleen" Kettle for easy cleanup and high popping capacity. These awesome home popcorn machines are great for big parties.
A stainless steel kettle shell and double hung arms make for easy kettle removal.
2 Years Parts Warranty.
Dimensions - 18" Wide x 16" Deep x 31" Tall
#2656 Ultra 60 Special 6 oz. - $560.00
#2660CR Small Cart - $395.00


---
Cretor's, the first developer of the Popcorn machine. Cretor's knows how to make popcorn. Imagine one of these home popcorn machines in your house.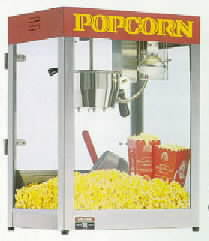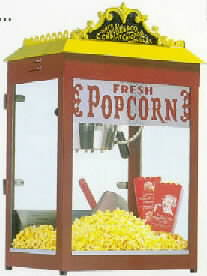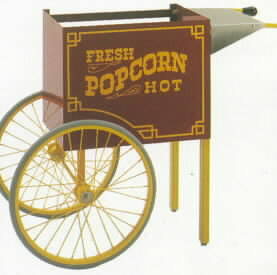 Above left is Cretor's  Gold  Rush  6oz  popcorn  machine   - $615.00    
Above right is Cretor's Antique Gold Rush 6oz. - $765.00
Bottom is Cretor's Antique Cart for either Gold Rush 6oz. popcorn machine models  -  $495.00

U.K. First to Market Business Opportunity
Click here if you don't find the home popcorn machines you're interested in and send me an email. I'll help locate it for you.