Shuffle board tables...
What's the best
Shuffle board tables you can get for your home game room?
Manufacturers learned that players who love to play shuffleboard tables in the bars wanted a board for the home. The only problem was most can't get that Gigantic 22 foot board in the house.
What did they do? They made them shorter and the shuffle players still loved the play of the game.
Below is a comparison, review, and what you can expect to pay for top of the line tables. These range in size from 9 foot up to tournament size 22 foot.
Although there are shuffle board tables used on the market. They're still too long to get in most houses. You can actually get a "Qualifier Series" that seems like a used price compared to tables.
Why? Because the wood playfield is 1 -1/2 inches thick compared to at standard 3 inches thick, but they play the same at half the price (complete the price request form below to see how cheap they are).
The Qualifier won't BREAK your back either. They're half the weight so just you and your buddy can move.
These shuffle board tables make a great addition to your home arcade game room.
(side note: If you're looking to save more money than the listed retail prices below. You'll save a lot.)
Also, chances are the table will be in good to great condition because people that spend this kind of money on shuffleboard tables usually take care of them.
Qualifier Series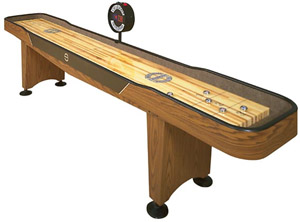 with standard finish and rail mount scoring (optional)
9' $1,795 Retail price
12' $1,995 Retail price
14' $2,095 Retail price
*Lengths are measured from cradle end-to-end.
For awesome pricing on this fun table from a large mover of these shuffleboard tables, please fill out the form below to see what you'll save.
---
Grand Champion
shuffleboard tables
12' $3,695
14' $3,795
16' $3,895
18' $3,995
20' $4,095
22' $4,195

*Lengths are measured from cradle end-to-end.
Shuffleboard Options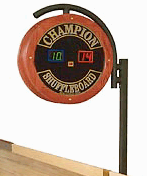 Wooden Score Unit Price $1,113 Weight 50 lbs.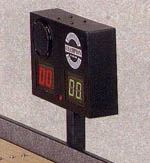 Bullet Score Unit Price $895


Triangle Score Unit Price $1,113 weight 45lbs.

Rail Mount Score Unit Price $385
J-Bar Score Unit Price $483


Your own Custom Logo Price $140
These accessories will really make any of the above shuffleboard tables impress your friends.



Please email me from "my services" page if you need additional help on selecting shuffle board tables.