Bar pool tables used ... Where can you find them
Below, you can get
these pool tables used
at great prices.
Buying used pool tables can save you up to 50% off the retail price of what Bars pay for Brand New - fill-out the price request form below and you'll see.
Note: Due to the labor cost to pallet these pool tables, it is more economical to purchase these if you live in California, otherwise the best savings you'll get is on a non-coin pool table.
Whether its used Valley's, used Dynamo's, Bar pool tables with or without the coin mechanism will save you money
...and they're less expensive than you THINK, especially if you get the pool tables used from a distributor.

Now you can play these virtually indestructible bar tables in your home game room at the best prices.
These are the exact Valley pool tables that you see in the bars or bowling alleys - with or without the coin mechanism.
You can also DAZZLE UP your pool tables with the following Pool table balls (Becoming YOUR LARGEST pool ball selection on the INTERNET - and GROWING) :


Aramith pool balls
Elephant pool balls
Harley Davidson balls
Custom pool balls
Marbleized pool balls
Pearlescent Pool Balls
Brunswick pool balls
Carrom Billiard balls
Sparkle pool balls



These are the exact ones as the Coin-op, except no coin mechanism.
If you're interested in getting pricing on any Great used 7 foot or 8 foot pool tables. Then, fill out the secure form below to submit a price request from Star services the World's largest distributor of pool tables.
Note: We've attached a coupon to the form which gives you a free set of pool balls if you decide to get any pool tables used.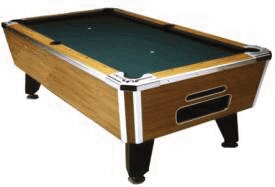 The home version of Valley's most popular coin-operated table, can stand up to the toughest environment.
Imported one-piece no-seam Italian slate which is precision ground to 10/1000 of an inch across the entire playing surface for true ball rolls and playing accuracy.
Taj Teak ( That's Taja ) wood-grain laminate finish
Available Sizes:
Valley Tiger pool table Valley Tiger pool table
---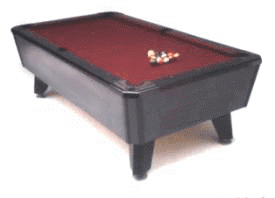 A distinctive table with a contemporary appeal.
Charcoal laminate with crystal flecks
Black chrome corners and matching trim for a sleek, modern look
Genuine one-piece Italian slate ground within 10/1000 of an inch for flatness and true ball roll and one-piece "no hang up" ball return
Available Sizes:
7 Ft.
Valley Black Tiger pool table
8 Ft. Valley Black Tiger pool table
---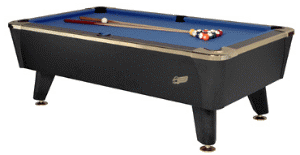 Reliable, trouble-free operation you've come to expect from Dynamo is standard in this proven winner. Available with drop pockets.
Richly colored, heavy gauge blue cloth
Polished brass trim are combined with all the exclusive
Available Sizes:
7 Ft. Dynamo Top Brass pool table
8 Ft. Dynamo Top Brass pool table
Just remember - You can save a lot of money by getting these pool tables used. They'll look new and the distributor should re-felt and replace the bumpers if they need replacing.
Email me if you have any questions
on buying Pool Tables Used.